Special RRRHOA meeting to be held Monday January 24, 2022
Details
1) To vote to for 3 Directors to the RRRHOA Board
The in-person meeting will be held at the Tri Lakes Chamber of Commerce, 166 2nd Street, Monument, CO.
More Details will be posted. 
The following people are running for a Director Position are:
Bill Griffith, Kevin Guy, Beth Lonnquist, Craig Pryor and Juliet Yack 
No October Special Elections
Details
No October special elections will be held on Oct. 4th. 
Special elections will be delayed until further notice. 
RRRHOA







RRRHOA & Firewise Committee - Wildfire Evacuation Drill
Details
Red Rock Ranch HOA and its Firewise Committee would like to encourage residents to attend the Evacuation Drill community meeting where they will have a
opportunity to sign up for the evacuation drill.
  We want to have as many residents attend the meeting as possible, AND have residents actually register to be an exercise evacuee!  Those who can't attend the meeting can still sign up online, but the community meeting is very important.  If you have questions, p
lease email This email address is being protected from spambots. You need JavaScript enabled to view it..
Dear Red Rock Ranch Residents, 
You are invited to participate in a
wildfire evacuation drill
on the
morning of October 2, 2021
.  Up to 25 residents can register to participate as actual evacuees d
uring the exercise. During the exercise, you will receive first-hand experience evacuating your home in an emergency and learn valuable information you will need during a wildfire or other emergency. You will also help first responders from across the region in a valuable exercise of evacuation procedures.  P
lease join us and attend the 6PM Wednesday, September 15 community meeting at Palmer Lake Elementary Gym, 115 Upper Glenway, at 6:00 PM.  You will have an opportunity to sign-up to participate at the meeting.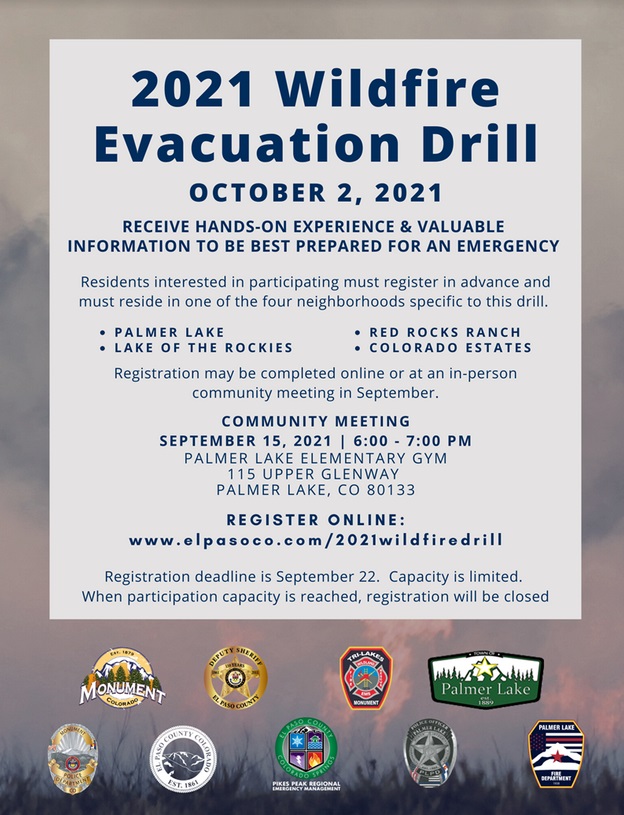 Natalie Sosa

Deputy Public Information Officer

El Paso County | Public Information Office

Office: 719.520.6250 | Cell: 719.344.4231

This email address is being protected from spambots. You need JavaScript enabled to view it.
2021 Annual HOA Picnic
Details
Saturday August 28 will be our Annual Picnic.  Mark Fears will be our BBQ Chef with burgers and hot dogs.  Bring a chair and potluck dish to share.  We will meet at noon at the Gazebo by the tennis courts. Emergency preparedness will be discussed. Rosalia Mc Kean, Firewise committee will present a "Go Bag," and what that entails.
The Board will also have announcements on future actions by the HOA.